First Steps
Congratulations on having your Vision device, our eyewear technology! We hope you will like this wonderful glasses, and you'll amaze your audience.
We have the following Vision variations available to purchase, for more information please check our Vision One product page.
Vision One [normal] - with blue light blocking lenses
Vision One [sunglasses] - with polarized lenses
We are sharing important tips here - please read this First Steps guide carefully before start using our device.
Turning Vision ON and OFF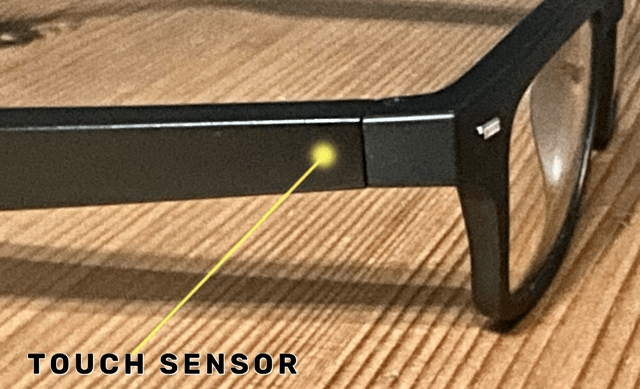 Vision glasses have a touch sensor on their right temple. Using the sensor you can control the device. It is quite intuitive to find it, just practice it a few times. The sensor is very sensitive, you just have to tap it with your finger.
Charge the glasses using the included USB charger. It takes about 20 minutes for the glasses to fully charge. Please fully charge it before the first use.
Turn on the glasses by pressing and holding the power button for 3 seconds. Removing the glasses from the charger also turns on the device.
Pair the glasses with your smartphone via Bluetooth. On your smartphone, go to the Bluetooth settings and look for the glasses in the list of available devices. It will appear as "eyewear plus" in the list. Select the glasses and follow the prompts to complete the pairing process.
Adjust the volume on your phone, and set it to the lowest.
You can control music on your phone by touching the sensor, however it is giving you an audio feedback, we recommend to avoid touching it during a show.
When you're finished using the glasses, turn them off by pressing and holding the sensor for 3 seconds. Charging the glasses will turn it off, too. When not in use, store the glasses in a case to protect them.
Volume Settings
If you are performing in a silent environment, make sure you set the volume on your phone to the lowest. This way only you will hear the messages, but people around you won't notice it. This is ideal for performing on a stage, or during an online show - the audience is silent.
If you are performing in an environment with constant modest noise, you can set it to volume level 2 or 3. Don't set the volume to loud. Make sure that there's no sudden noise around you, like someone speaking loudly. Tell them that you need to concentrate.
It's hard to use Vision in a loud, noisy environment, where people is shouting with each other.
Application Settings
Our apps are offering an Audio Assistant feature. You can find it in the Settings. Set the speech speed, the wait and repeats to the best works for you. According to our tests, slower speech speed, a little wait and some repeats are the best.
Don't use continuous messages or constant announcements, they are much easier to notice. Short, repeated messages are the best.
If you miss a setting from an app, consult with the app developer and ask them to add the feature you miss.
General Thoughts
While the Vision glasses are innovative and convenient solution for many people, they may not be the right fit for everyone and every environment. If you don't normally wear glasses or sunglasses, the Vision glasses may not be the best option for you. In these cases, alternative solutions like PeekSmith 3 or other methods of accessing information may be more suitable.
Replacing the lenses to prescription lenses is possible, but we have not much experience with it so far. Opticians are usually saying that they can do it for your risk, but it is about to protect themselves - they cannot get an other frame if they break it. We will update this guide when we have more experience.