In 2015 MetalWriting created the Pocket Watch engraving effect. In 2020 the SB Watch and TimeSmith perfected the preditcion watch. For years, the magic community asked for a combination, so in 2023, Andreas Sebring and András Bártházi from Electricks decided to make this dream come true.
Using MetalWriting, a freely selected word, name, or number can be mysteriously engraved into the back of the SB Watch pocket watch. Also, you can also set the time to a time the spectator named using the Timesmith app (with several methods, see below). This set now includes the MetalWriting kit, and a specially designed SB Watch back. You can perform the MetalWriting routines with this kit.
Add an SB Watch Pocket Edition to your cart as well, and you can perform all the effects of the two products, individually or as a combination.
Step into the world of instant enchantment with MetalWriting. This revolutionary technique lets you engrave predictions on metal surfaces in the blink of an eye. Gone are the days of laborious preparations and elaborate setups. With MetalWriting, you can create magical moments on the spot, setting the stage for a spellbinding performance.
In the combo, you will get equipped with the tried and tested MetalWriting methods that are seen and used on big TV shows like Fool Us and Got Talent and in smaller shows worldwide.
🍬 Product Benefits
Instant Engraving: MetalWriting allows you to engrave predictions on the back of the SB Watch silver pocket watch instantly, eliminating the need for time-consuming preparations or setup before your performance.
No Hidden Assistance: With MetalWriting, you're the only magician in control, no need for hidden assistants or secret maneuvers. Your performance stays pure and unaltered as you harness this captivating power by yourself.
Close Examination: Spectators can closely examine the 0.5-millimeter deep engravings, adding an element of interactivity and authenticity to your magic.
Endless Possibilities: Whether you're performing at corporate events, on the streets, or at festivals, MetalWriting opens up endless possibilities for unique and memorable magic acts.
Ready to Reset: you can reset the engraving in a few minutes of work, and repeat the effect. The kit has enough material to reset 500 times, and the refill is available from Andreas for roughly 20 USD.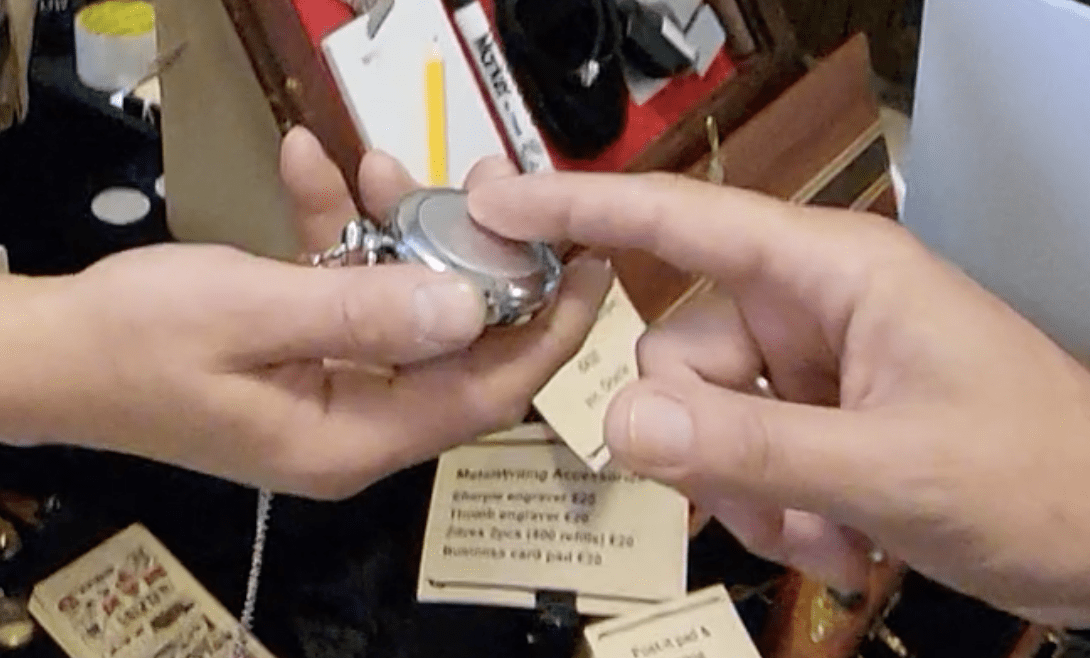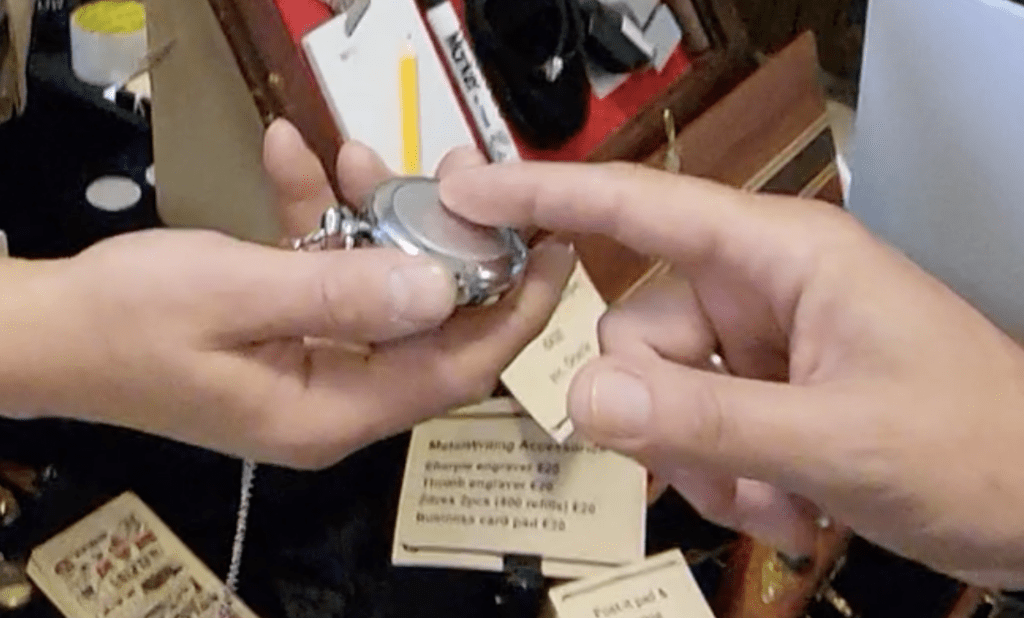 📦 What's Included
A full MetalWriting Kit with a special back designed for the SB Watch
Video tutorials
📕 Documentation
Do you have more questions? Read our SB Watch documentation for our comprehensive guide and watch the video tutorials, which you have received with the product.
📢 Key Features
Instant engraving
Solo performance-without hidden assistants
TimeSmith App integration
Spectators can closely inspect
0.5 mm deep engravings
each effect performed individually or in combination
🤝 Compatible With
📐 Specifications
Inner diameter: 46 mm
Outer diameter: 48 mm
Thickness: 11,5 mm
Height: 59 mm
Chain length: 32 cm
Weight: 50 grams
🎙️ What Users Say
This is the most exciting technique I've seen in a long time. MetalWriting has taken a beautiful piece of classic mentalism and made it perfect. -Colin McLeod
Andreas never stops to amaze me with his creative mind! This is a fantastic creation that I am sure will find its place in the repertoire of many professional performers! - Luca Volpe
Wow! That's awesome, what an amazing addition. My two favourite and go-to routines are now one. Doesn't get better than this! - Paul Romhany
Table of Contents